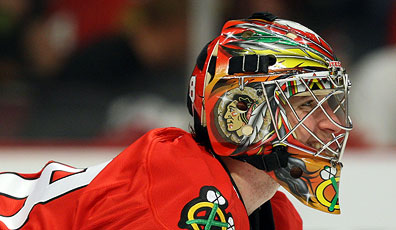 The trade freeze ends tonight at 12
and the Blackhawks have work to do. I've been eagerly reading ESPN's NHL trade rumors every day since before the break to see what might happen in Chicago. I've heard Tim Thomas, Dan Ellis, Marty Turco, Dwayne Roloson, and Tomas Vokoun's names thrown around as possible replacements for Cristobal Huet. There have been times when I've thought, "If this is all that's available, forget it." But Vokoun changes everything. Here is a goalie that is sitting on a .931 save percentage and a 2.36 GAA. Oh yeah, and he plays for Florida, which means he hasn't been getting much help either. Put him on a team who has a good defense, who know what he could do?
The trade that has been rumored is Cristobal Huet, Corey Crawford, and Kris Versteeg from Chicago for Tomas Vokoun and either Dennis Seidenberg or Jordan Leopold coming to Chicago. I have also read that this trade is a totally false rumor. I sure hope not.
Here's why...
This would be a great trade on many levels. First of all, we get rid of the very inconsistent Cristobal Huet. He is one of the big salaries that Chicago really needs to dump, especially because he's not always pulling his weight. Second of all, we're getting an upgrade in goal. Huet has a slightly better goals against average, but is trailing Vokoun in GAA (.903). Thirdly, we would be gaining another good defenseman. Fourthly, we're making more cap space for next year by moving Versteeg. Do I really want to move Versteeg? No, I like him and he's a promising, young player, but we have to make cap space and he's one of the players that we had to pay more money than we wanted because Tallon screwed up this summer. Lastly and leastly, losing Crawford doesn't really affect us, at least right now. He might have been someone we might have called up later, but we're not using him in Chicago right now.
What worries me...
Stan Bowman (GM) has come out and said that he thinks our goalie situation is fine, that we can do just fine with what we have. Quenneville said earlier this week that Niemi has earned the starting spot and he's going to keep it, which would hint that the 'Hawks aren't going to get someone else to be the starter. Huet even spoke this week (like his opinion matters) and said:
"Look at the games to see if we have helped the team win, and I think the answer is yes. Stats are stats. We both have a large number of wins compared to losses and we're pretty much getting the job done.''
Let's not forget one very important stat, Huet's playoff series wins: 0. You might say, "Yeah, but Niemi is gonna be the new starter. So Huet's numbers don't matter." Look at Niemi's track record, though. He's a pretty good goalie
for a rookie
, but he's not a franchise goalie. Also, his best games are when he's had a long break. When he plays a bunch of consecutive games, he gives up too many goals. Also, you can't realistically count on a rookie to carry you through the playoffs. I don't remember any time in recent memory when a rookie goaltender has won the Stanley Cup. And this is the year we need to win the Stanley Cup. It's our best chance. Don't screw this up, Bowman. Make the trade.