3.00 GAA and a .896 SV% sounds like Roberto Luongo's playoff stats...if he were having a good year. I certainly wouldn't have predicted they'd be the Blackhawks' young upstart goalie, Corey Crawford, midway through December. So technical and calm, Crawford maintained a 2.30 GAA and a .917 SV% in his rookie season with a markedly weaker squad in front of him. He played well enough to convince Stan Bowman to give him $8M over the next 3 years. What do we say of the start to the season? Shocking? Disappointing? Sophomore slump? I'd agree with that. One thing I won't say and I don't think you'll hear a lot of other people say is 'bust'.
Crawford has definitely had his struggles this year. Crawford is known as a goalie who is very technical, almost robotic at times. If you were going to beat Corey Crawford, you weren't going to wait until he was out of position or took a bad angle, because you would never score. Corey wasn't born a fundamentally-sound goalie. He earned his talent by working his ass off in Norfolk and Rockford for 5 years, while watching his big league team sign a veteran bust and call up an undrafted teammate after only spending one year in the AHL. Then he had to watch as that former teammate backstopped his big league club to a Stanley Cup Championship. Could you imagine Crawford's inner anguish? However, instead of demanding a trade or complaining that he should have been called up before Antti Niemi, he just worked harder. He worked harder so that one day when Antti Niemi's agent got greedy (whether or not he was worth the money is another discussion), the Blackhawks would be more inclined to try the 2nd-round prospect who had been groomed in the AHL for 5 years.
Crawford would meet yet another challenge, though. The Blackhawks, wary to hand the reigns over to a rookie had signed Marty Turco to be their starter. Again, Crawford didn't complain, but worked harder and made the most of his opportunities. Not surprisingly, Crawford earned the starting job by December.
Crawford's 2011-12 campaign didn't start where he left off last year. His first few games were pretty typical of Corey, but by the end of October, you could already tell that he wasn't himself. Allowing 4, 5, 6 goals was NOT something Crawford did regularly. One could blame the poor defensive play we've seen this year. Nik Hjalmarsson, Steve Montador, Sami Lepisto have put forth some poor efforts this year. Even Duncan Keith and Nick Leddy have had some doozies. Unfortunately, these weren't Corey's only problems. He seemed to have lost some of that technical play we had seen before. On more than one occasion, Crow seemed to lose his crease. He would be down too early, only to watch a puck hit the net above his shoulder. He needed to go back to the basics.
Thankfully, the Blackhawk
s started a new veteran reclamation project in Ray Emery. Emery's story is different, although it still includes trials and challenges. Formerly a stalwart tender in Ottawa, Emery found himself out of favor with the Ottawa brass and since then has spent his days bouncing around the league. His stay in Philly ended with Emery finding that he had avascular necrosis, a rare disease in which the cells of femur in the hip joint begin to die due to a lack of blood flow. Emery had surgery and declared his intention to rehab and play again one day, but most fans had written him off. True to his word, Emery returned to the NHL in the last month of the 10-11 regular season and the first round of the playoffs with the Anaheim Ducks. Emery was a new man, posting 7 wins, 2 losses, a 2.28 GAA, and a .926 SV%.
Emery's performance made the league take notice, but the Ducks' regular starting goalie returned this year after a bout of vertigo and no longer needed Ray's services. The rest of the league was either set at goalie or were unwilling to take a chance on Emery's new hip. The Hawks didn't really need a starting goalie and they had their reservations about Emery as well. Chicago brought Emery into camp on a tryout basis before signing him. The Hawks haven't regretted it, either. Unlike Crawford, Emery DID pick up where he left off last year. So far, Emery's posted a 7-1-2 record with a 2.70 GAA and a .904 SV%. He's been a rock when the Hawks D has looked like they were in the spin cycle. He looks like a guy who's somehow found a second "prime". Think that bird on the back of Ray's helmet is a hawk? I'd be more inclined to think it's a phoenix.
Emery has made it possible for the Hawks to let their young star sit back and work with goalie coach Stephane Waite, while the Blackhawks continue to win games. This has led the media to speculate that there is a goalie controversy in Chicago. I'm not convinced.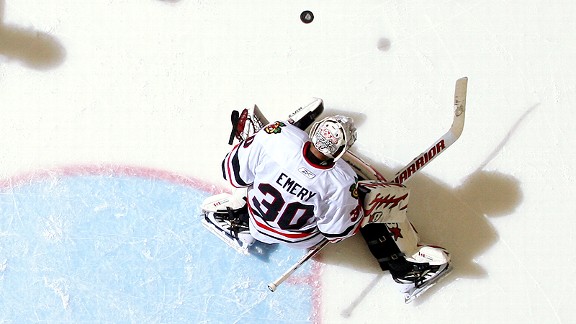 Remember how Corey Crawford got to where he was last year? Watching everyone else be where he wanted to be and working hard on his technique to get there. All of the sudden Corey's lost that drive? I doubt it.
The Blackhawks are lucky to have a guy like Emery to hold down the fort until Crawford gets his head right, but the truth is that Emery is a streaky goalie. I'm ecstatic that he's on the positive side of things while Crawford is working things out, but Hawks fans shouldn't expect Ray to keep up this pace the entire season. If Ray's honest with himself, he knows that he's streaky too. He also knows that his main objective this year is to prove to NHL clubs that he still has gas left in the tank. He doesn't want to hit the downslope of his streakiness as badly as Blackhawks fans want to avoid it. As soon as the good times end, he'll be glad to let Corey take over for a while.
In the meantime, Corey Crawford will work to earn his starting role back. And when he does we'll all be saying, "What controversy?"