Most Surprising Team:
I'll address it more in detail in the next section, but it seems the only acquisition the Blues really made tis offseason is one of the biggest reasons they're in such great shape. NHL analysts have praised the young talent of the Blues and have predicted how good this team will be in the future. In seasons past, though, their young talent hasn't produced or they haven't stayed healthy enough to be effective. This year, the Blues seem comparatively healthier than other seasons and add to the mix some real, quality goaltending from Brian Elliott (a seemingly insignificant acquisition this summer, which has proven to be clutch). Lastly, the replacement of Davis Payne with former Jackets' head coach, Ken Hitchcock has proven significantly more valuable than most people would have guessed. As I write this, the Blues sit atop the Central Division. How many people predicted that at the beginning of the season?
Most Surprising Player:
Brian Elliott was less than an afterthought this offseason. He was more like a non-thought. After struggling with the basement-dwelling Senators and being replaced by Craig Anderson, it seemed that Elliott was either destined to play out his days as a backup or else was finished in the NHL. Without much interest from other teams, Elliott was signed by the Blues to back up last offseason's major acquisition, Jaroslav Halak. After Halak backstopped the Habs all the way to the Eastern Conference Finals in the 2010 Playoffs, the Blues made Halak a $3.75M cap hit for the next 4 seasons. However, Halak has not been nearly as impressive in St. Louis as he was in Montreal. That made it that much easier to name Brian Elliott the starter as he's posted incredible numbers this season (.940 SV%, 1.62 GAA; both 2nd-best in the league). The reason for the difference may be in dispute, but there's no arguing that Elliott's play has been a welcome surprise in St. Louis.
Most Dis
appointing Team:
This is a pretty easy decision. The Anaheim Ducks have gone from Playoff team to basement dweller quite rapidly with little change in personnel. Corey Perry, Ryan Getzlaf, and Bobby Ryan are all still on the roster, but it seems that without Perry on pace for 50 again, the Ducks struggle to score. With only 92 goals as a team this year, they have the third fewest in the league (Kings-88, Isles-91) and their 28 standings points is the second worst in the leag
ue (Columbus-27). However, this is not just a one-phase failure for the Ducks. Jonas Hiller hasn't been putting up starter-caliber numbers and the defense only sports one man with a positive +/- (and even then, it's not a regular starter and he's only a +1). The rapid decline of the Ducks has caused management to not only fire Randy Carlyle and replace him with former Caps' coach Bruce Boudreau, but they have also put their three big stars on the trading block in order to shake things up. With the rest of the division sniffing the playoffs, the Ducks might as well start rebuilding for next year.
Honorable mention/runner-up: Tampa Bay Lightning
Most Disappointing player:
This has to be a two-way tie between Alex Ovechkin and Sidney Crosby. These two have largely been considered the best two players in the NHL over the past 4-5 years. This season, however, they are nearly invisible. In 39 games, Ovechkin has only posted 17 goals, putting him on pace for roughly 36. This isn't a terrible number, but considering his past as a 4-time 50+ goal scorer, it seems that Ovechkin is not what he used to be. Part of this might be blamed on the coaching shake-up in Washington, but Ovi's less-than-normal production was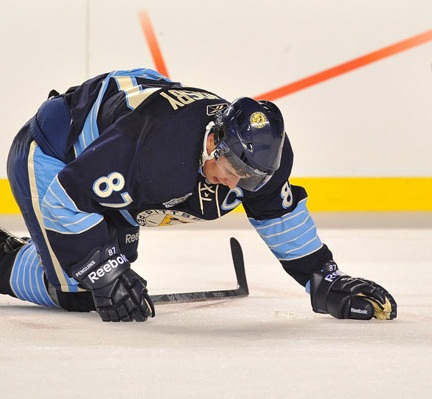 documented before Boudreau was fired. The reign of Alexander the Great might be over.
Crosby's absence hasn't been his fault, but most NHL fans have to admit that not having Crosby around is very disappointing. This not only because Sid is a major face of the NHL and a very exciting player to watch, but also because it highlights the NHL's seemingly increasing problems with concussions. Watching a high-profile player like Crosby spend nearly an entire year off the ice due to concussion has to make every hockey fan tremble at the though of the same thing happening to their favorite star. It was scary to see Crosby come back after nearly a year off the ice and then leave with concussion symptoms once more without having sustained any contact to the head. Additionally, it is disappointing to not know what Crosby COULD have done had he been healthy his whole career (or, unfortunately, had he finished his career).
Hart Trophy:
Not only has Jonathan Toews posted 22G and 22A, but he has also won 58.21% of his faceoffs. Toews also deserves recognition as the leader of a great team. If the league's MVP is supposed to be the most valuable to his team, then Toews fits the profile. The Blackhawks have found themselves behind in many more of their games than I can ever remember, yet they have won many of those games. His own direct contributions, plus his leadership have been the main factors in those comeback efforts. Consider, also, the fact that Toews' 22 goals puts him only 3 away from his season total during the Cup-winning 2009-10 season and on-pace for a career high.
ROY:
Ryan Nugent-Hopkins will join the ranks of 1st overall picks that have won the Calder Memorial Trophy. In the past 1o years, only Alex Ovechkin and Patrick Kane have done so. Hopkins' impact was immediate as he posted his first NHL hat trick in his 3rd NHL game. Currently, the Nuge leads rookies in points (35) and is tied for the lead in goals among rookies (13). It's not like RNH doesn't have competition. Adam Henrique and Matt Read also have 13 goals and Henrique is only one assist behind Hopkins. However, Hopkins' status as an overall threat and the fact that he plays in Canada will definitely boost his reputation.