I have a service that sends me score updates after every period of the Blackhawk's games. They also send me little news tidbits every afternoon. It's the way I found out about the Blackhawks signing Brian Campbell and Cristobal Huet last summer. This year, I used it to confirm a friend's question through a text message that the Blackhawks had acquired Marian Hossa.
When I first found out about it, I was ecstatic. Here's a guy who was a huge acquisition for the Penguins two years ago at the trade deadline to help them make a Stanley Cup run that ended with the Red Wings squashing those hopes. Last summer, Hossa was a huge signing for the Red Wings as they set themselves up to return to the Stanley Cup Finals. This time, Pittsburgh squashed Hossa's hopes. Despite the lack of a championship, the man was an incredible help to the teams he was a part of.
Howver...

And I hope you knew this was coming, because I'm a huge pessimist--I don't know that this was our best move. I know you're thinking: "Spencer, what are you talking about? You just said that this guy was awesome." I know, but here's why I'm not so sure ownership did such a great job today.
We might lose Havlat.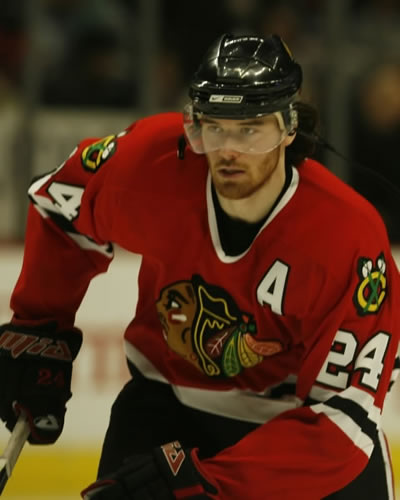 I have to say might because we hasn't been signed by anyone yet, but according to ESPN, the Blackhawks only offered Havlat a one-year deal before contract talks broke down. Suddenly, the Blackhawks ditch negotiating with their most clutch player, not to mention their points leader--yes, the man who saved them again and again throught the playoffs--Martin Havlat and instantly sign Marian Hossa. I don't think I really need to explain why we can't afford to lose Havlat. He's younger, he scored more points last year, and he had great chemistry with Andrew Ladd and Dave Bolland. The man was an assist machine, and went on wicked point streaks. The Blackhawks won't be the same if they don't get him back.
You can always be hopeful and say there's still time to re-sign him, but the Blackhawks signed Hossa to a 12-year $62.8 million deal. So, I think the Hawks have spent their money. Oh, and I just saw a note on Havlat's profile on ESPN.com that the Chicago Tribune reported that Havlat won't be coming back because they signed Hossa. So, yeah, mistake.
Aaaaand....I now need to get a new Blackhawks jersey.
Hossa's 30
And Havlat was 28. Okay, I'm done with the Havlat thing. Anyway, we just signed him to a 12-year deal. That means he's a Blackhawk until he's 42. I know that hockey players last longer than football, baseball, and basketball players, but still, come on. I think Hossa's still got some great years in him and I'm excited to have him, but I don't think we should have signed him to such a long deal.
Khabi...
A good offense isn't worth that much when you have no goaltender. Khabi was snatched up by the Oilers for a one-year deal at $15M. Nik was an important part of our success this year. Huet was a nice goalie to switch with, but he showed us that he was not that great. Constantly, Huet let leads slip away and let goals by that any NHL goalie should have been able to stop. I'm very scared about heading into the next season with Huet starting. Then again, I can't really blame the Blackhawks for spending $2.75M/year on Huet rather than $15M on Khabibulin. Still, sad to see him go.